It has been a while since I blogged regularly. But here is a work in progress for your approval. Lisa Lodge puts together some fabulous bead collections at Pine Ridge Treasures, and sometimes they are linked to a challenge or bog hop. This one appealed to me for several reasons -- I obviously needed some inspiration to blog again... and also, this theme is a little out of my comfort zone.
Sparkly shiny, and elegant too? I'm usually aiming for fun and funky, so this is a bit new for me. I recently had some hand surgery, so my use of pliers is a bit limited. I didn't make all the pieces I could have if my hand was more useful. This necklace and earring set is just the beginning of what I have planned for this wonderful selection of beads. I even planned them out!!! Since the surgery for carpal tunnel release was on my left hand, and I am right handed, I could draw out my ideas, a step I usually skip.
As you can see, I have a lot more to work with, including some additions from my stash. I did try combining some of these bracelet bars I picked up at a yard sale with the beads from Lisa. But as I was deciding if I liked the result, my temporary knots untied...I guess it was trying to tell me something!
So this is what I ended up with in time for today's blog hop. I love the black and red color schemes, as one of my earliest design influences was Ukrainian embroidery!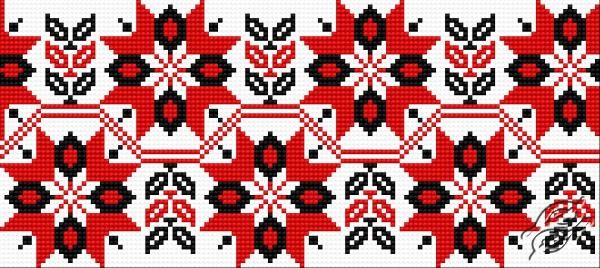 http://www.gvellostitch.com/files/products/00018/1834_b.jpg





Eventually, I would like to combine some of these elements into a lariat necklace, somewhat like this:
(use your imagination.)
Let's see what some others did with their Treasures.
Veralynne Malone,
Designed by Vera